The 2009 season of Farmer's Markets have been going great so far. Check out the market for wonderful herbs and vegetables and other goodies!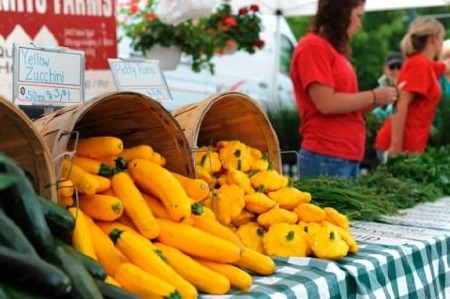 We are involved in the City of Chicago Farmer's Markets from May-October. We go to 7 Chicago markets per week and 1 suburb market per week. For more information on the City of Chicago Farmer's Markets visit www.cityofchicago.org/specialevents where you can find location of markets, market times and what the season for each market is. At market we sell cut bunches of herbs, potted herbs, vegetables and fall mums.

Herbs: Basil, Rosemary, Marjoram, Oregano, Tarragon, Sage, Catnip, Thyme, Chives, Garlic Chives, Spearmint, Peppermint, Mint, Lemon Grass, Curly Parsley, Flat Parsley, Dill, Cilantro, Fennel, Arugala, Lemon Balm and Lavender.

Vegetables: Summer Squash, Cucumbers, Tomatoes, Corn, Peppers and Winter Squash.

MARKET DAYS

Tuesdays

Federal Plaza (Dearborn & Adams) from May- October 7 a.m.- 3 p.m.

Museum of Contemporary Arts from June-October 10 a.m.- 5 p.m.

Wednesdays

Chicago's Green City Market from May - October 7 a.m. - 1:30 p.m.

Thursdays

Daley Plaza (Dearborn & Randolph) from May - September 7 a.m. - 3 p.m.

Schererville (Redar Park) from July - October 3 p.m. - 8 p.m.

Saturdays

Division St. (Division & Clark) from June - October 7 a.m. - 3 p.m.

Chicago's Green City Market from June - October 7 a.m. - 1:30 p.m.

Lincoln Park (Halsted & Armitage) from June - October 7 a.m. - 3 p.m.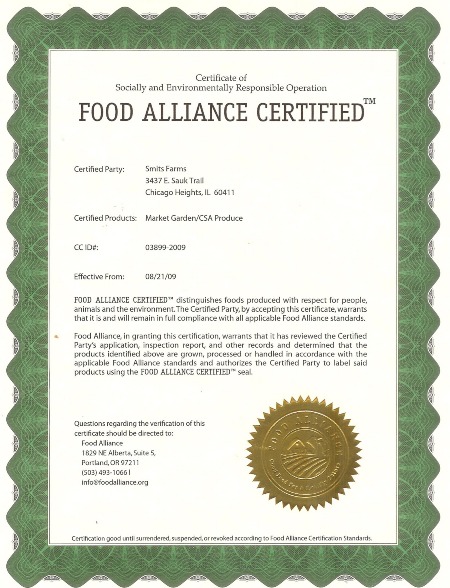 As of August 2009 we at Smits Farms have become Food Alliance Certified! Food Alliance is a nonprofit organization that certifies that farms, ranches and food handlers are producing and processing food in a sustainable and safe way.

By choosing Food Alliance Certified products, consumers and commercial food buyers can be assured they are supporting safe and fair working conditions, humane treatment of animals, and good environmental stewardship.

For farmers and food handlers, Food Alliance certification provides independent verification of marketing claims for social and environmental responsibility, differentiating and adding value to products, and protecting and enhancing brandsFood Alliance offers certification for farm and ranch operations, and for food packers, processors and distributors. In summary, Food Alliance assures that a quality product can be produced in an environmentally friendly way for generations to come

Pictured below is the guys pulling weeds in between herb beds. This is our weed control at it's best.